Mar­vel have two more sur­prises for their fans, post-Avengers panel, on the shop floor are two new props — Cap­tain America's shield and the Infin­ity Gaunt­let from Thor, which can be used in com­bi­na­tion with the Inifin­ity gems to gain com­plete con­trol of the universe.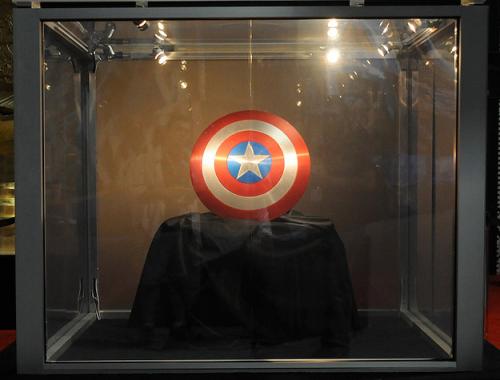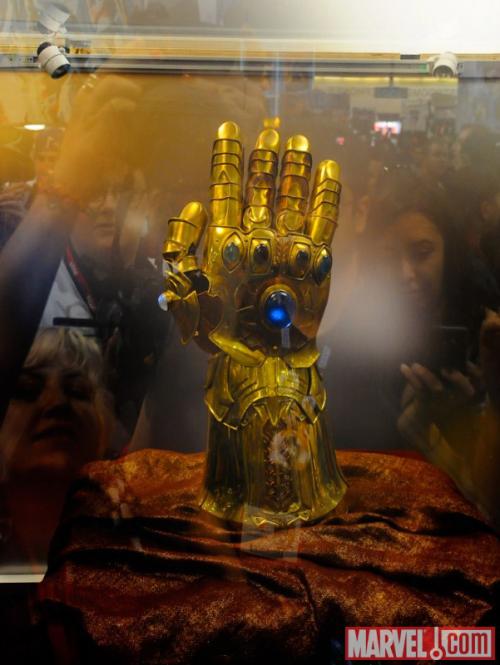 The appear­ance of the gaunt­let throws up some ques­tions and pre­dic­tions for the Thor and Avengers movie plots. The gaunt­let was cre­ated by Thanos,
Thanos mounts the six Infin­ity Gems, (col­lected in the The Thanos Quest lim­ited series), on his left glove to form the Infin­ity Gaunt­let, the focus of the title of the series. Each Gem grants its bearer com­plete mas­tery over one aspect of the uni­verse: Time, Space, Mind, Soul, Real­ity, and Power.
/Film more impor­tantly point out that, in the comics, Loki tries to attain the power of the gaunt­let, by steal­ing the infin­ity gems. He also seeks the Cos­mic Cube, which has been ref­er­enced in the Cap­tain Amer­ica footage; which would be a nice movie crossover prior to The Avengers. This ulti­mate power and cross-film vil­lain makes a very strong case for Loki being The Avengers main vil­lain. Thanos remains a strong pos­si­bil­ity, as he too sought the cos­mic cube.