As part of Marvel's efforts for a com­bined super-hero Avengers movie, there have been sub­tle ref­er­ences to Cap­tain Amer­ica in the two most recent releases, Iron Man and The Incred­i­ble Hulk:
Iron Man
When Pep­per Potts walks in on Tony Stark being undressed by JARVIS' robot arms, at around the 1h30 mark, in the back­ground you can see a half com­plete shield that matches Cap­tain America's red, white and blue design. Accord­ing to the exclu­sive Wal­mart comic book that came with the Iron Man DVD, Howard Stark (now rumored to appear in Iron Man 2) cre­ated the shield's tech­nol­ogy and Tony is using an old dis­carded pro­to­type to cre­ate an alloy for his suit's armor. This implies that, rather than cre­at­ing the shield, Tony Stark is tak­ing it apart, as pre­vi­ously rumored when the shield was first spotted.

The Incred­i­ble Hulk
On the 3-disc spe­cial edi­tion DVD there is a cut scene set in the snowy north where Bruce Ban­ner goes to com­mit sui­cide, before turn­ing into The Hulk and start­ing an avalanche. As the snow crum­bles you can just about make out the out­line of a human body and shield, meant to be Steve Rogers frozen in sus­pended ani­ma­tion, first spot­ted by Film School Rejects.
Other hat tips to Cap­tain Amer­ica include men­tion of the WWII 'super­sol­dier serum' cre­ated by Dr. Rein­stein, as injected into Emil Blon­sky. Incred­i­ble Hulk direc­tor Louis Leter­rier com­ments on this (IGN):
I wanted to address because I thought it was fun. But like Dr. Rein­stein and Vita Rays, that actu­ally was done on the day because we wanted the super serum. And the prop mas­ter said, "What do you want me to do with this?" And I said, "OK. Give me the serum." And he said, "What color should the serum be?" I said, "Blue like Cap­tain Amer­ica and I want the cap for the vile to be red like Cap­tain Amer­ica." And he said, "What do you want me to put on the sticker?" And I gave him Dr. Rein­stein and Vita Rays;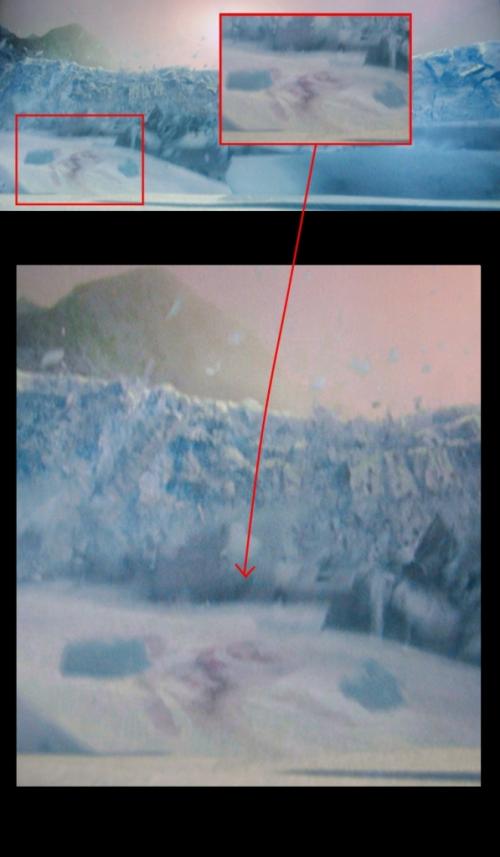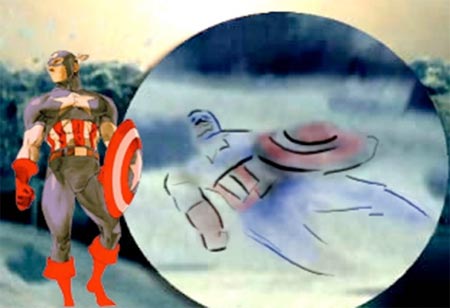 The appear­ance is at 2:25 in this video, not that you can really see it in this qual­ity: