Today at Bliz­zCon 2007 we have heard our first solid and inter­est­ing infor­ma­tion with regards to the War­craft, or to some, the World of War­craft Movie. This movie will be big, huge, EPIC even — in fact, Thomas Tull (pro­ducer of 300) stated a bud­get of over $100m would be com­mit­ted, with a pro­jected 2009 release date. Leg­endary Pic­tures are 100% com­mit­ted to this project, it shall be a "tent-pole", some­thing to stand next to and say "we did that!" — whilst remain­ing true to the game and fan base.
The plot for the film will take place approx­i­mately a year before the start of World of War­craft, includ­ing races you have played and lands you have wan­dered in, where lots of plot arcs are melded into a two and a half hour story. The film itself will revolve around a 'badass' new hero, with a theme towards con­flict and cul­ture — being a War Movie rather than a quest movie, from an Alliance's per­spec­tive.
"It's actu­ally not like the great adven­ture. It's not so much a quest movie. It's more of a war movie. Well, okay, it's absolutely a war movie. Cul­tures grind­ing up to a hor­ri­ble moment where it just all spills over and gets out of con­trol. Less of an adven­ture party quest-type sit­u­a­tion. More of an armies build­ing to an inevitable con­clu­sion type situation."

And w.r.t to the Alliance:

"While my heart lies with the Horde and Thrall's an inter­est­ing char­ac­ter, from a movie mak­ing stand­point, a block­buster movie its a lit­tle rough to try and tell it from the per­spec­tive of this green look­ing dude."
No direc­tor or cast have yet been assigned to the project and Tull stated that rec­og­niz­able actors to play main roles was not a necessity:
"We are start­ing those con­ver­sa­tions. We're going to be look­ing for some­one of Zak Sny­der (300) or Chris Nolan (The Dark Knight, Bat­man Beings) calibre,"
The not so good news — seems they are aim­ing for PG-13 con­tent which claims to be a com­pro­mise. I per­son­ally miss the days of old when action heroes swore blindly.
"I can tell you that this is the one thing about run­ning a stu­dio and mak­ing these things that's hard. You want to not com­pro­mise and have the right level of inten­sity. The story and the director's vision is what's ulti­mately going to dic­tate that. Per­son­ally one of my favorite movies of all time is Lord of the Rings, which has a PG-13 rating."
The film is still in its script­ing process, but Tull stated that they are cur­rently work­ing with some­thing that they are very happy with.
And now for the first piece of con­cept art of the Teldrassil: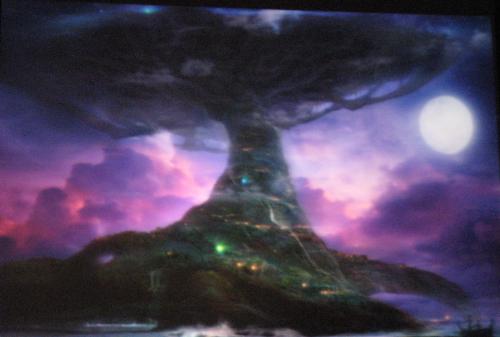 Other Q & A info:
Classes will be in the movie, but can't give details since still in script­ing process, not exactly clear and we don't know yet, but we want many famil­iar ele­ments in the movie as possible
What races will be rep­re­sented? Not very easy to answer con­sid­er­ing the time­line we're talk­ing about, so they are not sure about if the For­saken have yet joined the Horde But not every­one can be in the spot­light in the first movie anyway
War­craft has a lot of strong char­ac­ters, would you con­sider going back to do another movie on Arthas? I would con­sider that, sure, but we haven't talked about what other films might deal with. We have to get the first movie right first before you deal with franchises.
This is based on two or three major moments in the games, so it isn't rad­i­cally apart from the con­ti­nu­ity, so it really holds together. We want it to taste like the World of War­craft world. but it's also really fresh. I under­stand the fear that you don't want us to screw up the story, but we will be respect­ful of the con­ti­nu­ity but will hold up as a killer 2 hour movie. It is a lit­tle mod­i­fied.
There's so much in this world to deal with, so you use that as a jump­ing off point to tell a kick ass story. They want the play­ers to enjoy the movie expe­ri­ence, if they are too much a slave to the story that won't be the case. They want to respect the world, but to trans­late it to the screeen and is great on film.
And here is an after-video from IGN: