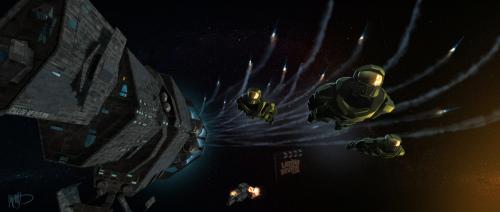 Latino Review have the exclu­sive on some con­cept are released to coin­cide with Stu­art Beattie's Halo: Fall of Reach treat­ment which acts as a pre­quel to the Halo video game series. The image is by con­cep­tual artist Kasra Fara­hani (pre­vi­ous work includes Spider-man 3 and Han­cock) and is part of a larger pre­sen­ta­tion to Microsoft.
Accord­ing to Latino writer El May­imbe, there are some big time Hol­ly­wood pro­fes­sion­als that are also major Halo fans that want to see this movie made — let's not give up hope yet.
Neill Blomkamp's first big screen work has also started a viral stir at SDCC, Dis­trict 9 which looks very inter­est­ing. "For Humans Only". Due for release next August, if this film can deliver the goods then the old Jackson/Blomkamp part­ner­ship may get its finan­cial back­ing after all.
We can also look for­ward to five more con­cept images being released over the next few weeks, stay tuned.