Vari­ety are report­ing that Mickey Rourke and Sam Rock­well are in talks with Para­mount Pic­tures con­cern­ing the roles of two vil­lains in the Iron Man sequel.
Mickey Rourke (Sin City, The Wrestler) is set to play the big bad­die of the movie, Crim­son Dynamo, "a heav­ily tat­tooed Russ­ian arms dealer. He's con­sid­ered to be an evil ver­sion of Iron Man because he bat­tles the super­hero in a nuclear-powered suit of armor.".
The Hol­ly­wood Reporter are sug­gest­ing that Sam Rock­well will play Justin Ham­mer, "a multi­bil­lion­aire busi­ness­man and a rival of indus­tri­al­ist Tony Stark".
Story of the orig­i­nal Crim­son Dynamo from Wikipedia — pos­si­ble plot spoil­ers below:
The first Crim­son Dynamo was also the cre­ator of the armor: Pro­fes­sor Anton Vanko. A Soviet sci­en­tist of Armen­ian birth with a PhD, Vanko was the world's fore­most expert on elec­tric­ity. He built a suit that was wired up to per­form elec­tric mir­a­cles, mak­ing him a human dynamo. The Crim­son Dynamo battle-suit allowed him to con­trol elec­tric­ity in all of its forms, allow­ing him to fire dev­as­tat­ing bolts of elec­tric­ity. It also allowed him to fly.

Vanko was a vain and cocky man, but he redeemed him­self in the end. In their first encounter, the Crim­son Dynamo bat­tled Iron Man. After being tricked by Iron Man (who made him believe that his Soviet han­dlers were going to kill him though ear­lier Vanko's supe­rior implied he was going to kill Vanko, any­way), Vanko defected to the U.S. and went to work for Tony Stark as one of his chief sci­en­tists. Soon the Sovi­ets came to kill him for real. They sent their top agent, the Black Widow [also rumored], and her one-time part­ner, Boris Tur­genev, the lat­ter of whom stole the armor and became the sec­ond Crim­son Dynamo. Vanko died sav­ing Iron Man by fir­ing an unsta­ble exper­i­men­tal laser light pis­tol at Boris, killing him­self as well.
Note the inclu­sion of the Black Widow in this plot arc, a char­ac­ter also rumored to appear in Iron Man 2
Justin Hammer's back­ground via Wikipedia:
Justin Ham­mer was born in Sur­rey, Eng­land, and later became a cit­i­zen of Monaco. A rival of indus­tri­al­ist Anthony Stark (Iron Man), multi-billionaire busi­ness­man Ham­mer, him­self an indus­tri­al­ist, later became a crim­i­nal financier. Ham­mer uses uneth­i­cal meth­ods. In exchange for fifty per­cent of the prof­its from their crimes, he will pay bail for cos­tumed crim­i­nals and finance the devel­op­ment and replace­ment of their weaponry and equipment.
Crim­son Dynamo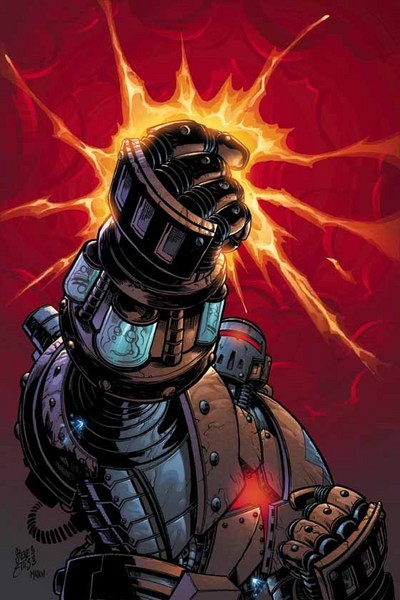 Justin Ham­mer