Another round up of the inter­views, press arti­cles and what­not that keep­ing pop­ping up here there and everywhere.
Michael Bay's Film Weekly Podcast
This inter­view comes from The Guardian's "Film weekly" inter­view with Michael Bay and was posted to the offi­cial Michael Bay site.
Bay is not quit­ting Transformers
Some inter­views recently spun the "I'm tak­ing a break" stance Michael Bay has on Trans­form­ers 3 to give the impres­sion he was quit­ting the fran­chise alto­gether. This is not the case and in all like­li­hoods Michael Bay shall direct Trans­form­ers 3, due for release in 2012.
GM pro­vided 67 vehi­cles for Trans­form­ers 2
USA Today have a short arti­cle on the Transformers/GM rela­tion­ship and an inter­view with Michael Bay.
"They were respon­si­ble for build­ing the cars, and I was try­ing to get my check because we built the cars, fronted them the money, and they were late on pay­ing us," Bay says. "I was like, 'We bet­ter get our check fast before they go bankrupt.'

Chevy won't reveal what it cost to pro­vide cars, but spokesman Steve Janisse says 67 vehi­cles were used, and 52 of those were "non-salable," spe­cially built pro­to­types used for test­ing, engi­neer­ing and display.

[…]

Bay says the cars them­selves become like celebri­ties, some­thing he wit­nessed while shoot­ing in a remote part of the Mid­dle East. "The money they spend is pen­nies for the amount of good­will. Bum­ble­bee is one of the most famous cars in the world," the direc­tor says. "Lit­er­ally, we're in this poor lit­tle town in Jor­dan, and all these kids sur­rounded (the car). They all knew Bumblebee's name."
Nascar 18 wrapped in M&Ms and autobots
Num­ber 18 has been cov­ered in an M&Ms and Trans­form­ers themed coat — full gallery avail­able at Joe Gibbs.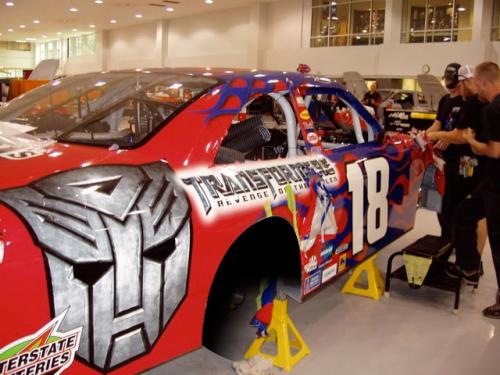 Shia has "The Touch"
Shia per­forms a ren­di­tion of Stan Bush's "The Touch" to much amuse­ment and pain.
Obama in Revenge of the Fallen
The movie in some way includes Obama, to which Bay com­ments, via Dig­i­tal Spy,
Bay said: "The Obama thing? I met him in an air­port where he was car­ry­ing his bag by him­self and we talked about movies and appar­ently he likes my movies. So I fig­ured we'll just put him in."

The direc­tor joked that he was able to include the up-to-date ref­er­ence because he had only com­pleted mak­ing the film last Wednes­day [June 10th].
Michael Bay in Gui­ness Book of World Records
Michael Bay is now in the record books for the largest explo­sion filmed whilst actors are present. It was shot in New Mex­ico. The NZ Her­ald, from whence this news came, offer up and expan­sive overview of Trans­form­ers 2 and have some tid­bit inter­view com­ments from Megan Fox and Shia as well,
"If Michael Bay can make me look that good in shorts, then I don't mind if peo­ple think I'm being exploited. And it gives me an advan­tage because even if I do a mediocre per­for­mance, peo­ple don't expect any­thing of me, so they're impressed." And inci­den­tally, although she is adorned with tat­toos, claims to be bisex­ual, and does her best to come across as "dan­ger­ous and dark" à la Jolie, she insists it is not cal­cu­lated. "It's more of a curse than a bless­ing to look like Angelina," she says, straight-faced. "Seri­ously, there are a lot of films I've had to pass on because I don't want peo­ple to think I'm try­ing to emu­late her." (Appar­ently she was offered the next Tomb Raider but turned it down for this rea­son.) As for Lebeouf, an edgy lead­ing man and an exam­ple of the core audi­ence of a film like this, says, "Trans­form­ers is escapism in the same way Star Wars was for its gen­er­a­tion. If you want magic tricks, theme park rides, the roller coaster vibe, Trans­form­ers is for you."

Film Jour­nal talks with Orci and Kurtzman
After recov­er­ing from the Star Trek press tour, Orci and Kurtz­man answered some ques­tions from the folks at Film Jour­nal. Points include the story's emo­tional core, the strike and the inspi­ra­tion for the sequel.
"For us, the action always emerges from the char­ac­ters; the audi­ence tunes out ran­dom action scenes that don't move the plot for­ward or take the char­ac­ters in some new direc­tion," Kurtz­man says. "So in Revenge of the Fallen, there are sev­eral sequences that we pitched to Michael in detail as part of the char­ac­ters' sto­ries and he ended up shoot­ing them almost exactly as we pitched them. Of course, he also comes up with great ways to embell­ish the sequences and no one is bet­ter at that than he is."

That infor­ma­tion will come in handy as the duo makes their long-planned tran­si­tion to direct­ing. "The plan is to find the right film for us to direct in the next cou­ple of years," Orci reveals. "We're happy being the guys that write the words, but we want to try every­thing. It's pos­si­ble that we'll each direct our own projects, but we might be too jeal­ous of what the other is doing and so we'll both have to do it!" While nei­ther claims to have a dream project right now, there is one fran­chise that Orci says he's hop­ing to see real­ized on the big screen some­day. "I'd love to see [Nintendo's] The Leg­end of Zelda done right."
Video game pre­views and walkthroughs
More Revenge of the Fallen video game pre­views have sur­faced at Game Trail­ers, includ­ing Art Direc­tor and Pro­ducer inter­views, a Side­ways and Dev­as­ta­tor walk­through and an Opti­mus Prime down­town walk­through. Fol­low­ing these there are tow YouTube videos, includ­ing the open­ing scenes and a Break­away train­ing routine.
Human Alliance video review
Not strictly press, but not really big enough for its own post, another Human Alliance video review: