Wreck­ers
Until now, the weaponized Nascars have been dubbed stun­ti­cons, omni­bots and rally­bots, all three names have been rejected by MichaelBay.com's Nel­son. Nel­son has since con­firmed that they are actu­ally called Wreck­ers. Wikipedia pro­vides some back­ground on the characters:
The Wreck­ers are a sub-team of Auto­bots in the fic­tional Trans­form­ers Uni­verse, func­tion­ing essen­tially as a com­mando unit.
Red Faced
Film­ing last week on Michi­gan Avenue, Chicago, the Trans­form­ers 3 crew were using more card­board head cut outs. This time, lowfatoreo's YouTube video has high­lighted a new char­ac­ter, red faced and angry look­ing this could be the robot mode of the Fer­rari, Roll­bar or a Wrecker, my per­sonal guess is that it's the red Wrecker. Hat tip to Trans­form­ers Live for pick­ing this one out.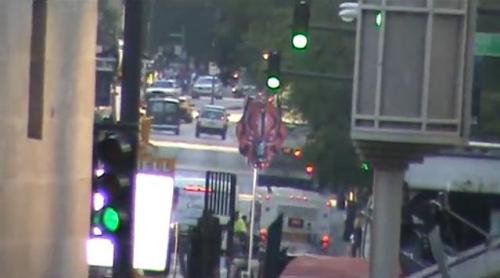 Ein­stein, Mercedes
Until now it's been pre­sumed that the Mer­cedes was the lat­est incar­na­tion of Jolt, how­ever Nel­son has dis­pelled these rumors on the offi­cial Michael Bay site, point­ing out instead that the Mer­cedes E550 is the alt mode of the Ein­stein looka­like robot, that is called Q ("like in James Bond").