EDIT: The lat­est viral mar­ket­ing developments:
Betty's House of Pies Stake­out — Live Audio Feed with Shootout and solu­tion to Why So Seri­ous Per­fect Getaway
Why So Seri­ous Per­fect Get­away and Threat­en­ing Audio Message
St Swith­uns Church with mar­riage and bap­tism cer­tifi­cates and Betty's House of Pies
Orig­i­nal Article:
Head on over to www​.the​gotham​times​.com to read the news­pa­per arti­cles that we posted about yes­ter­day. You can also email the edi­tor of the paper with a "let­ter", letterstotheeditor@​thegothamtimes.​com.
Gotham Times Secrets
Click­ing around on page 1 of the arti­cle reveals this lit­tle click­able secret left by The Joker: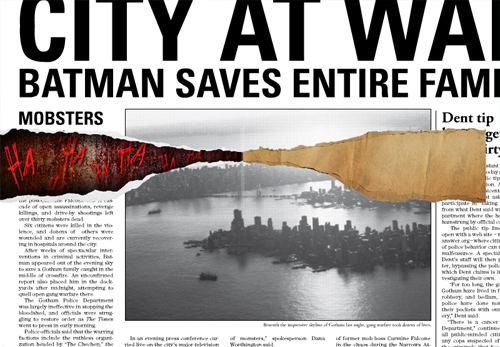 This leads you to the HA HA Time, www​.the​ha​ha​ha​times​.com, a mock­ery of the paper: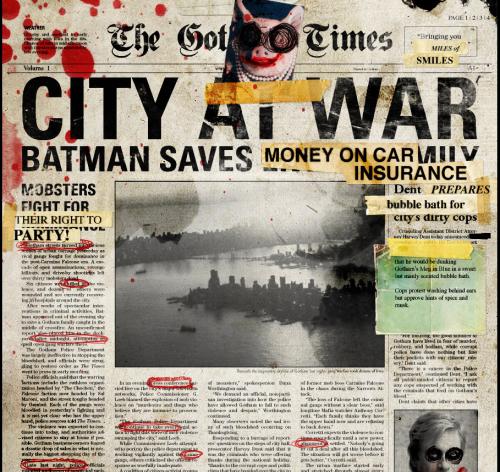 We are the Answer
The "We are the answer" (www​.wearethean​swer​.org) now shows a "Not autho­rised" page, the defacto Inter­net Explorer ver­sion… which I'm not sure I should see on Fire­fox. This hints that the page itself is man­u­fac­tured, per­haps just saved as the index.
The web­site is now up! It seems to be some sort of neigh­bor­hood watch scheme where civil­ians can report crimes in their area. You can also find these choice quotes from Gotham politi­cian Har­vey Dent:
"Pos­i­tive Feed­back makes for a Pos­i­tive City" — Har­vey Dent
"Help us make Gotham a bet­ter, safer and stronger city by help­ing us to stomp out cor­rup­tion" — Har­vey Dent
And from the Let­ters of Sup­port:
In a city where "busi­ness as usual" has meant con­tin­u­ing cor­rup­tion and scan­dal, Har­vey Dent is any­thing but usual. The assis­tant Dis­trict Attor­ney is shin­ing a light on a lot of dark cor­ners and expos­ing cor­rupt cops and city offi­cials. He's mak­ing some ene­mies, but here at Action 3 News, we think he might be the best friend this city has had in many, many years.

–Wil­son Cor­ri­gan, Spot­light on City Hall, Action 3 News.

I was born in this city in 1925 and I've seen her go through the dark days of World War II and the bright days of the civil rights move­ment and the crazy days of the six­ties. But noth­ing seemed as bad as the last cou­ple of years. Bless Har­vey Dent. What we need is more peo­ple like him, instead of hav­ing to depend on a crazy man in a cos­tume to do what the police aren't doing.

–T. John­son, let­ter to The Gotham Times

——————————————————-

Dear Mr. Dent,

After all the things that have been hap­pen­ing, and espe­cially the Fear Toxin attack, I applied for a trans­fer with my com­pany. I felt that, despite the roots I have here—I grew up here and my par­ents live here—Gotham was not a place where my wife and I could raise our soon to be born son. I hated to move away. If peo­ple like me move away, soon all that would be left would be the poor and the des­per­ate. I with­drew that request for trans­fer today. You make me feel hope for this city. Your work gives me the courage to stay and fight for the city I love.

–Perry Licht­man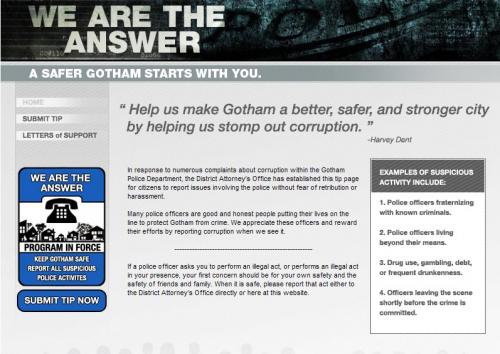 Other Viral Sites
Some new viral mar­ket­ing sites have also popped up, the first is one for Gotham's National Bank found at www​.gotham​na​tion​al​bank​.com.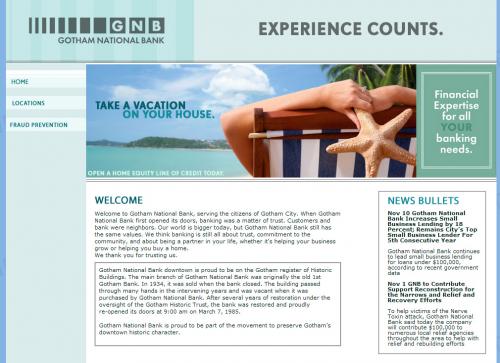 And
Remem­ber­ing Gina
, which can be found at
www​.remem​ber​ing​gina​.org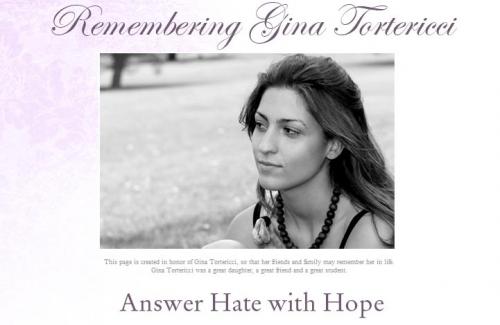 Thirdly, there is a Gotham Police web­site located at
www​.gotham​po​lice​.com
.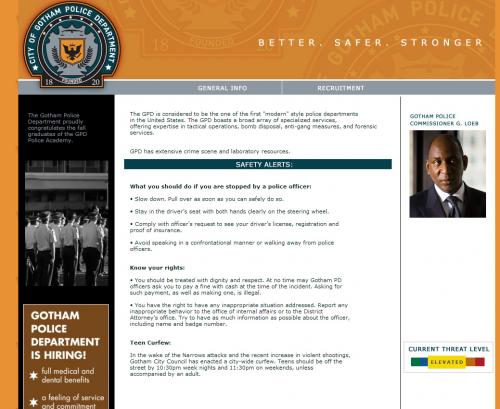 And another one… this time its Gotham City Rail,
www​.gotham​c​i​tyrail​.com
, com­plete with a map of Gotham City, clearly show­ing the dam­age done dur­ing Bat­man Begins in the region of The Narrows.