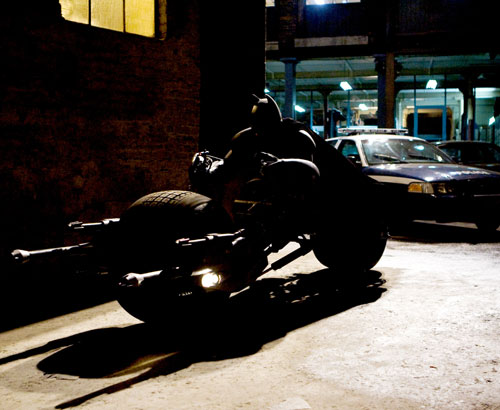 This is it, the new con­trap­tion 'cre­ated' by Lucius Fox, the vehi­cle rumored to be unveiled this week. It is the Bat­pod, or bat-cycle, whichever you pre­fer. It offi­cially goes on view tomor­row at the 2007 New York Licens­ing show.
It is a mon­ster, and not only is it rid­able, it is fast. The wheels are 508 mm in diam­e­ter and it boasts machine guns, can­nons and a grap­pling hook. There is no han­dle­bar, instead you steer with your shoul­ders that lock into two shields. To ride this you need to lie belly down, on the 'tank', which can rise and lower itself in order to fit through the small­est of gaps.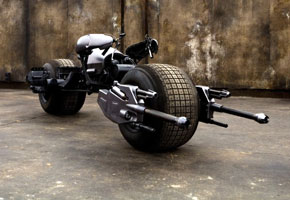 There are six of these beau­ties in total and their cost is unknown. They were designed by the man behind the Bat­man Begins Bat­mo­bile, Nathan Crow­ley and built by Chris Cor­bould. It will be rid­den by French stunt­man Jean-Pierre Goy, who has been test­ing the bikes at an undis­closed secret loca­tion in Eng­land over the past month.
I think we all can't wait to see this thing in action!