A new mes­sage was posted to the mains and pub­lic forums of Cit­i­zens for Bat­man today,
Poster: BriDog72 — Thurs­day, July 3rd, 2008 at 00:12
Seems there's been a bit of a slipup with the project me and Batfan73 have been work­ing on. BatFan's in jail and I need everyone's help. He left me a voice­mail, it was kinda gar­bled, but he said he was picked up by the cops for tres­pass­ing, so he needs some help get­ting every­thing acti­vated. He's not sure when he's going to be able to extract him­self from his sit­u­a­tion.
He said he needs some­one to get some sort of key off of an invoice, num­ber 38272899 (geez, I hope I copied that down right), but he got cut off before he could tell me what this invoice is or even where to find it. We need this key to acti­vate every­thing.
Can any­one fig­ure this out? We're going to need to fix this or the whole thing's ruined! Anyone?
In an email to Glenn Barhyte, Jim Gor­don made ref­er­ence to Maroni Imports, lead­ing us to a new viral site, www​.maroni​im​ports​.com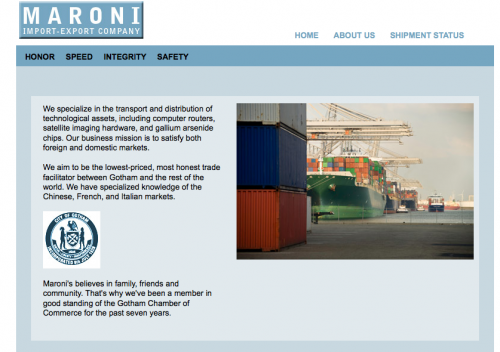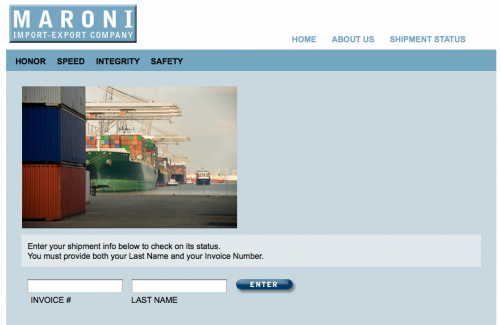 With the invoice num­ber from the forums post and the sruname "Cras­ton", which appeared in a small news update to the Gotham City Rail website:
ALERT: The STCS will undergo ini­tial fine-tuning of its soft­ware on the evening of July 8th. This rou­tine main­te­nance may result in tem­po­rary inter­mit­tent sys­tem delays. We apol­o­gize for any incon­ve­nience this may cause. — C. Cras­ton, Sr. Elec. Engi­neer, GCR
With this infor­ma­tion the afore­men­tioned invoice can be down­loaded, at the bot­tom of it there is a key for a sig­nal booster, Key: 5D45C08AA6C3638D7829C0D5183FDB14B0CDBF1DCB12. With this key, the sig­nal booster was acti­vated and CFB was updated to show two sets of co-ordinates in New York and Chicago. Hence the two loca­tions for the big event this July 8th are now known: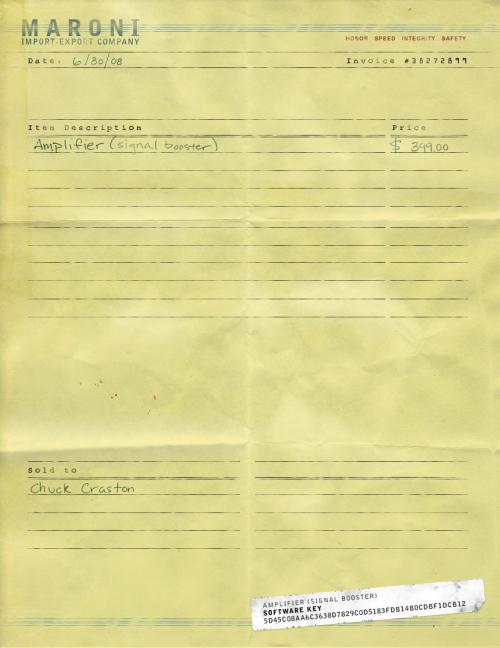 CFB has since been updated to include a new mis­sion statement:
Some­times, you have to take a stand. You have to fight for respect. You have to let the entire world know you're here.
On July 8th, nobody will be able to ignore us. Gather at the above coor­di­nates at the appointed time, and help us take a stand in sup­port of Bat­man!
If you can't join us on the ground, we'll be pro­vid­ing a way for you to watch what goes down, live on this web­site.
Defend Gotham! Defend Bat­man!
Key: 5D45C08AA6C3638D7829C0D5183FDB14B0CDBF1DCB12
Sig­nal Booster sta­tus: ON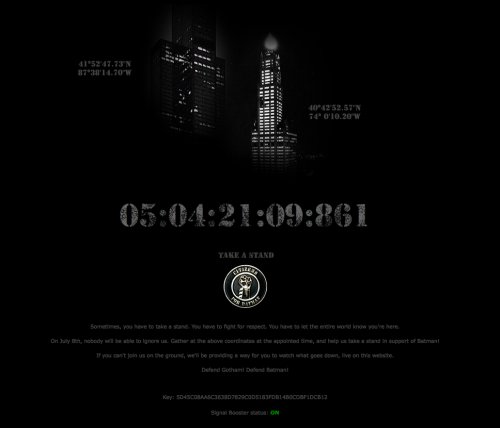 Thanks Pierre!