The code has been cracked and the forums found — the Nyc­ti­ceius Under­ground!
The words were:
midnight/Nyctalus/threat/plerotes/history/euderma/fear/myotis/underestimation/
Login with user­name: nyc­ti­ceious, pass­word: mer­ritt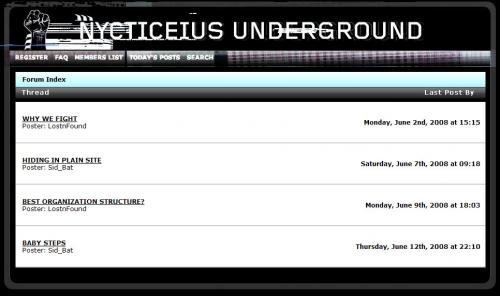 Why We Fight:
I've been patrolling my neigh­bor­hood for sev­eral weeks now. I've seen crime hap­pen in front of me. It's obvi­ous City Hall doesn't care, so why should we? I think that's an impor­tant ques­tion to answer before we set out to DO SOMETHING about crime in Gotham. The answer might be dif­fer­ent for each of us. For me, I want to fight because I lost my sis­ter to vio­lent crime. She was attacked and bru­tally assaulted when she was leav­ing a group of friends at a restau­rant early one Sun­day night. Some­one was wait­ing for her by her car. She screamed and yelled "fire," but no one came to help. Unlike many vic­tims, she went to the police, but they didn't do any­thing. They gave her the runaround for months until she found her own peace. I fight for my sis­ter. I fight so bad things don't hap­pen again to any­one. I fight because the police won't. I fight to take back the city I used to be proud to call home.