Pierre informs us that the viral web­site "Cit­i­zens for Bat­man" has just updated, adding a link to a set of forums on the right hand side, beneath the news col­umn. This is not a forum you can sign up to — rather a forum posted to by cit­i­zens of Gotham city with their Bat­man expe­ri­ences. Wel­come their new acronym, "WWBD" or, "What would Bat­man do?"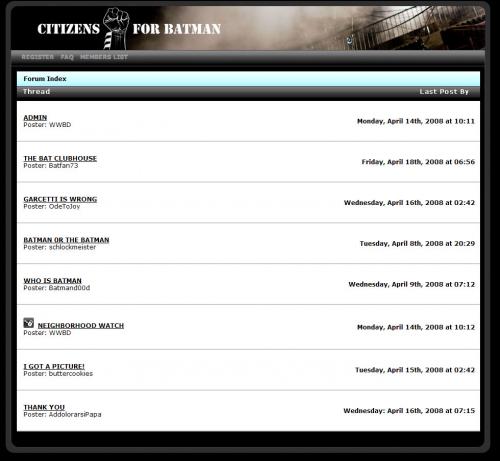 Poster Reddy-Steddy has started a topic "I got a pic­ture", which con­tains a blurry Bat­mo­bile shot taken by him at "5th street":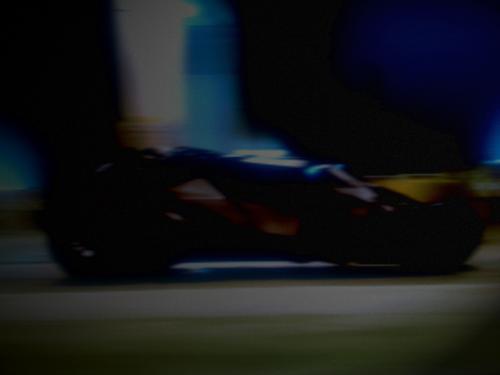 And here is an inter­est­ing extract from the topic "Garcetti is wrong":
I sup­port Bat­man but Garcetti, as a rep­re­sen­ta­tive of the estab­lished civil author­ity really has to take that posi­tion. Bat­man exists out­side the estab­lished author­ity and is there­fore a threat to it. Think about it, there are over four hun­dred cit­i­zens for every cop, so the sys­tem works only if 1. the police are the only ones to enforce order and 2. most of us fol­low the rules and the police only have to deal with a few peo­ple who deviate.

The alter­na­tive is a world where any­one who has a grudge takes care of it them­selves. That means that a per­son who feels wronged deals directly with his neigh­bor, shoots them if they feel its nec­es­sary. You get feuds and law­less­ness and a sur­vival of the fittest. The strong dom­i­nate the weak. By tak­ing the law into his own hands, Bat­man threat­ens the police monop­oly on main­tain­ing order and could be seen as tak­ing the first step towards that kind of lawlessness.

The prob­lem is that the police are not keep­ing their end of the civil con­tract. We give them power with the under­stand­ing that they will main­tain order. But any­one who lives in Gotham can see that order and safety are break­ing down. We are already in a state of law­less­ness. Bat­man is respond­ing to the increas­ing dis­or­der. And so are we by join­ing Cit­i­zens For Batman.
Pierre has also spot­ted that the name "Larry" posted in the Neigh­bor­hood watch thread refers to Larry Coniglia, enter­ing this name in the record search at St Swith­uns reveals his mar­riage cer­tifi­cate — which we have pre­vi­ously dis­cov­ered by search­ing for Sal­va­tor Maroni (he is the witness)