A new Joker text has spawned the hunt for the next WSS viral web­site, Bruce was sent this ver­sion of the message:
OK clown, I see one last test of skill in your future. Post this where every­one can see it: BABEL
Oth­ers received these words — LAM, BOB, BLAM, ZEAL, BABEL, ZOOM, ME, MAZE, LAB, AMBLE
Which leads us to the "Bam­boo­zle" page: www​.whysose​ri​ous​.com/​b​a​m​b​o​o​zle
Here we see a for­tune telling machine, (much like that creepy one in the Tom Hanks movie "Big").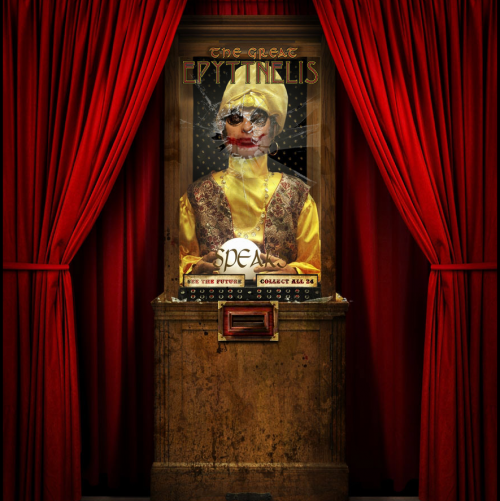 Click­ing each of the but­tons reveals tick­ets with some for­tune and an extra taped on mes­sage from The Joker.
Top left
You will get your heart's desire. Too bad you're an addict.
You will come to the atten­tion of peo­ple in high places. Like crazed hill­top snipers.
You will live in inter­est­ing times. Inter­est­ing to his­to­ri­ans. Like the Black Plague.
You will meet some­one tall, dark and hand­some who you will share your life with. They'll route your bank funds into an untrace­able Car­ribbean account.
You will come into great wealth. After an indus­trial acci­dent. You'll be blind. Deaf. Com­pletely par­a­lyzed. But rich.
Now would be a good time to leave your job. Twenty years flip­ping burg­ers is long enough.

Bot­tom left

Chil­dren will influ­ence a major deci­sion. Who knows. You might have mar­ried her any­way.
You will have a break­through in your career. Your boss will take credit.
You will have an oppor­tu­nity for a good invest­ment. House of Pies stock is shoot­ing up.
Don't assume you know what is going on at work. But yes, there are pho­tos. And yes, they will stand up in court.
You will make money, if not for you, then for an orga­ni­za­tion. Like the IRS.
You will unex­pect­edly need help today, and the response of friends will sur­prise you. They'll take video. Send it to your boss. Your wife. It'll go viral.

Top right

Money is head­ing your way. But you're a mov­ing tar­get. Too bad.
Expect a pro­mo­tion. Expect it to be humil­i­at­ing.
You will soon receive a gift If your lawyer calls and says don't answer the door, there's a rea­son.
You can expect an inher­i­tance. One of those genetic things that pre­dict a short and mis­er­able life. It will also explain why your ears look like that.
Some­one who cur­rently doubt is telling the truth Say­ing you are the prophet of a new reli­gion won't help. The voices were wrong. They weren't free sam­ples.
Beware of false infor­ma­tion regard­ing a loved one. But that thing about the affair? That's true. Sorry.

Bot­tom right

Beware of unex­pected wind­falls. Veg­ans are espe­cially flat­uent.
A new per­son will enter your life. Your cell­mate. The voices will tell him you're a demon.
An acquan­taince will approach you with a busi­ness offer. Any­one stu­pid enough to use a fortune-telling machine will think it's a great offer. You prob­a­bly date a pagan.
A small kind­ness will lead to unex­pected ben­e­fits. After sev­eral thou­sand dol­lars, things will mostly be okay. Just give up and throw out your mat­tress.
Can­cel the trip you planned this week Take the trip-dysentery. Stay home-salmonella. Either way you lose weight.
Your star is climb­ing. You'll be a celebrity. The Dar­win awards are a kind of fame.
14 of these clues have cutouts:














The name of the for­tune teller is "Epyt­tnelis" which is "Silent­Type" back­wards — the name of a SHH forum mem­ber that com­piled an over­all Gotham City map given the snip­pets seen across the viral sites. Using this map and a co-ordinate sys­tem cor­re­spond­ing to the num­bers in the cor­ners of the tick­ets, the tick­ets cover two squares with the cut outs in each of the 14 giv­ing num­bers of a street. Apply­ing these in the order that the tick­ets can be retrieved we get a sequence of num­bers — hit­ting the but­tons in this order (22 1 5 3 4 17 14) reveals the win­ning ticket and a link to the tent's exit and onto the Over­ture.
3 = 8G = 22nd
5 = 3P = 1st
9 = 6M = 5th
14 = 3L = 3rd
17 = 2F = 4th
21 = 5H = 17th
23 = 6E = 14th